Sublime Text 2 is a text editor for OS X, Linux and Windows, currently in beta.
Cobol syntax - mainframe support
cobol is one of the most use language in professionnal world. And you developper are facing serious performance issue working with non modern iDE  (auto syntax etc...)
Support Emacs-style in-buffer syntax settings
GNU Emacs has a useful feature that allows an individual file to override the default Emacs mode (and, hence, the associated language syntax and colorization) by using a special magic string somewhere in the first non-blank line of the file. For instance, if file foo.C would normally be displayed using C syntax rules, but you want to force Sublime Text 2 to use C++ rules, simply include a comment like this in the first non-blank line of the file:
//           -*- c++ -*-
This feature is useful for overriding the default language on a per-file basis.
I've implemented a plugin that provides this capability. It's in this GitHub repo:
GAMS language plugin
GAMS is a widely used modelling language to write optimization model.
I wrote a plugin for syntax highlighting and compilation command.
The repository is located in github:
https://github.com/lolow/sublime-gams
entity.name.tag.localname.xml doesn't allow '.' char
The regular expression for matching the xml tag localname isn't correctly.
the '.' is allowed in the localname so the correct expression should be:
(</?)(?:([-_a-zA-Z0-9]+)((:)))?([-_a-zA-Z0-9:\.]+)

If have simply added the \. in the last group ... could you please add this in the XML.tmLanguage file THX ...
And: Sublime text is amazing! I will purchase a licence for Xmas for ME ;)

mysql.connector
Hello,
I'd like to import mysql.connector to get a connection to my db. The problem is that the integrated Python of Sublime Text 2 is 2.x (too old for that module as Oracle told me) so I downloaded Sublime Text 3 as it has an integrated Python 3.x. In the normal Python 3.x IDLE and command line, mysql.connector is working, but not via the Console in Sublime. 
Is there some module or a package to solve my problem?
Please help me.
Thank you very much.
-Armin
Support gbk and other encode
Many serious problems in 2181 build.
I have many problems with 2181 build, that are making Sublime Text 2 unusable anymore. 
For example word wrap can't be turned off, even if I make it false in default settings. 
Or Undo is not working correctly at all. I can't use it, because when I did, it would corrupt a part of code, which wasn't even changed. 
Or sometimes I can't use CTRL+X because it will not delete selected part.
And cursor very often just stays on one spot and don't move (he do, but I don't see it). That's maybe the worst.
Build 2165 was perfect and I was very happy. I tried 2181 in February, but when I had saw these defects, I returned to 2165. But unfortunately a few weeks ago Sublime Text 2 said that 2165 is not enabled any more and I have to switch to newer build.
I'm running on Ubuntu 10.10.
I know that this forum is about plugins, maybe, but I don't have an interest to register on your forum. 

Five Keys to Investing in 2017
#1: Uncertainty Is a Sure Thing. Keep Calm and Carry On.
When it comes to shock and awe, 2016 delivered. The United Kingdom's decision to leave the European Union, the election of Donald Trump as president of the United States, turmoil in China's markets, challenges to globalization — clearly, the world remains an uncertain place.
Swift and dramatic change can inspire powerful emotions and lead to very human, but ultimately destructive, investment decisions. For investors confronted with confusion and uncertainty, the natural temptation is to retreat. "Keep calm and carry on" may be good advice, but for many investors it can be hard to follow.
#2: Diversification Still Matters, So Keep Your Balance.
In the 2008-2009 bear market, diversification didn't matter. The Great Recession took a toll on nearly every asset class and portfolio. But in the 2000-2002 downturn, diversification worked. If you hadn't piled into tech, you were spared a lot of pain when the dot-com bubble burst.
The debate over investment diversification is likely to go on and on, but today a strategic allocation in stocks and bonds around the world remains a hallmark of a portfolio that can help investors fulfill their objectives in the long run.
#3: Income is Scarce. Casting a Wide Net Can Pay Dividends.
There are nearly 50 million people over 65 in the United States, and many of them have one thing in common: They want their dividends. Millions of retiring baby boomers need income, but they may have to search far and wide for yield.
#4: Relax, It's Not All Doom and Gloom.
Take a deep breath. Relax. In an age when doom and gloom seem to be all we read about or see on television, it just might be possible that things aren't as bad as they seem. In fact, things may just be getting better — and not for the few, but for the many.
#5: Life Happens. Control What You Can With a Long-Range Plan.
Don't get too high or too low. Try to maintain an even keel. Fight fear with facts.
All of those can be hard to do when the world's markets and global economy are going through times that can be both exhilarating and frightening. The evidence shows that euphoric investors tend to buy high, and fearful investors sell low.

Online Info Blog: Avoid scams
The web can be a great place, but not everyone online has good intentions. Here are three simple ways to avoid scammers and stay safe on the web:
Beware of strangers bearing gifts
A message is probably up to no good if it congratulates you for being a website's millionth visitor, offers a tablet computer or other prize in exchange for completing a survey or promotes quick and easy ways to make money or get a job ("get rich quick working from your home for just two hours a day!"). If someone tells you that you're a winner and asks you to fill out a form with your personal information don't be tempted to start filling it out. Even if you don't hit the "submit" button, you might still be sending your information to scammers if you start putting your data into their forms.
If you see a message from someone that you know that doesn't seem like them, their account may have been compromised by a cyber criminal who is trying to get money or information from you – so be careful how you respond. Common tactics include asking you to urgently send them money, claiming to be stranded in another country or saying that their phone has been stolen so that they cannot be called. The message may also tell you to click on a link to see a picture, article or video, which actually leads you to a site that might steal your information – so think before you click!
Do your research
When shopping online, research the seller and be wary of suspiciously low prices just like you would if you were buying something at a local shop. Scrutinise online deals that seem too good to be true. No one wants to get tricked into buying fake goods. People who promise normally non-discounted expensive products or services for free or at 90% off probably have malicious intent. If you use Gmail, you may see a warning across the top of your screen if you're looking at an email that our system says might be a scam – if you see this warning, think twice before responding to that email.
Watch out for scams using the Google brand. Google does not run a lottery. We do not charge training fees for new employees – if you receive an email saying that you have been hired by Google but have to pay a training fee before you can start, it is a scam. Watch out for people claiming to sell cars using Google Wallet. Find out more about various scams using the Google brand.
When in doubt, play it safe
Do you just have a bad feeling about an ad or an offer? Trust your gut! Only click on ads or buy products from sites that are safe, reviewed and trusted.
Many online shopping platforms have trusted merchants/sellers programs. These sellers typically have a visible stamp of approval on their profiles. Make sure that the stamp or certificate is legitimate by reviewing the shopping platforms' guidelines. If the platform doesn't offer a similar program, take a look at the number of reviews and the quality of reviews on the seller.

Online Info Blog: BBB warns about Valentine's Day scams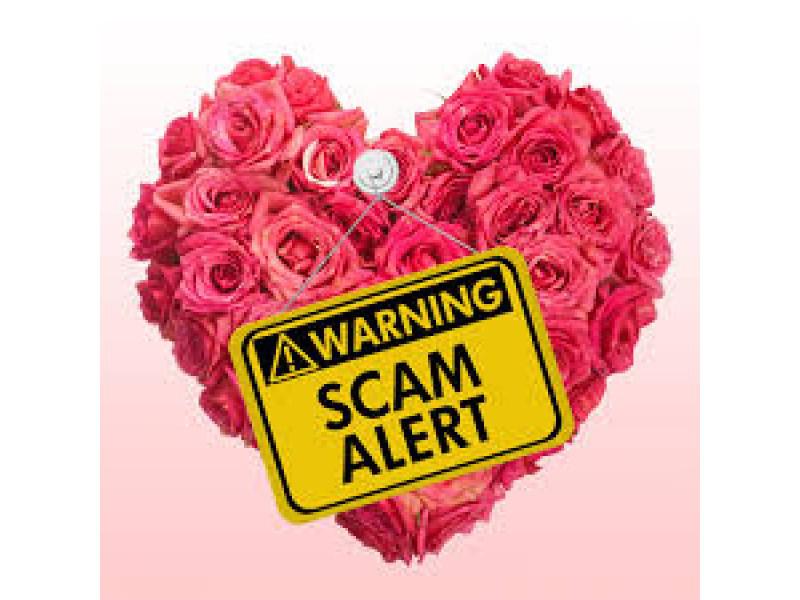 Flower Fails
Because of the amount of money that consumers are expected to spend this Valentine's Day on flowers, consumers can be certain that scammers and unscrupulous businesses will also be looking to benefit. To ensure that a Valentine's Day bouquet is delivered as planned, follow these scam savvy tips:
- Let the BBB guide purchases. Research trusted florists and gift shops, check out customer reviews, and look for scams at bbb.org.
- Pick up the phone or visit the shop. Even if ordering online, visit or chat with the brick-and-mortar shop prior to making a purchase. Discuss the arrangement you are looking for, inquire about guarantees and ask about delivery times. Don't make a payment until the order is clearly outlined and always ask for a receipt.
- Watch for unsolicited calls and emails. This time of year, phishing scams spike for those looking to treat loved ones with flowers and gifts. Fake e-cards can carry viruses, and unsolicited emails claiming to require additional funds for gift delivery are common.
Beware of Cupid Cons
The Internet's ability to connect people through social media and online dating has been a godsend for many single folks. But with that convenience come opportunities for scammers to prey on the love-struck.
This is a common narrative with many Valentine's Day scams. An interesting stranger builds a fake relationship with an unsuspecting target through phone or video calls, texts and emails. Eventually, the scammer claims to be experiencing a financial hardship — or begs for funds to come visit the love-struck victim. After money is exchanged, the scammer cuts off contact. These types of scams are tricky because scammers know how to make people feel vulnerable and how to get them to do what they want.
How do you avoid a Cupid con? Looking out for the following red flags can help protect both your heart and wallet:
- Your new friend is a constant no-show. Traveling for business, house-sitting for an out-of-state friend, visiting family far away and other last-minute schedule changes are all common excuses scammers use to avoid meeting people face-to-face. An interested girl – or boyfriend would normally want to make time to get to know you better in person. So, if a new love interest is avoiding you, it's time to get a little suspicious.
- Their social media profiles don't match, are very new or are nonexistent. Contact information, pictures and background information the person shares with you should match what you see on their social media profiles. A shortage of online friends and contacts, stock photos and spelling/grammatical errors can be clues that you are being wooed by a scammer.
- They ask you for money. Asking for a loan from even the closest of friends can be uncomfortable (not to mention unwise), so why would a new love be boldly asking you for cash? From medical emergencies to claims of being robbed — a romantic scammer isn't afraid to brazenly beg. Be particularly wary of anyone asking you to send funds via wire transfer or a gift card. And never give money or share banking
information
with someone that you have not met in person or don't know very well.