Ideas
I have a small quibble with the way you select multiple lines of text in Sublime – or technically, how you see/perceive what's been selected when doing so.

Let's say you have these example lines below (throw in a couple empty lines above and below) …

Maecenas faucibus mollis interdum.
Aenean lacinia bibendum nulla sed consectetur.
Nulla vitae elit libero, a pharetra augue.

… To reproduce the behavior I'm referring to, please follow these steps:

1. Place the cursor on the beginning of the first line, right before the 'M' (in "Maecenas").
2. Press and hold Shift, then press Arrow Down 3 times.

The cursor lands on the line below the selected lines.

Compare with e.g. Vim's Visual Line selection (pressing capital V in normal mode). I'm hoping for Sublime Text to have the same behavior as when selecting Visual Line in Vim – which is also default in the vast majority of editors and places where you can edit and select text, i.e:

Highlighting only the lines you've selected and momentarily not showing the cursor.

So, my questions are:

- What is the motivation to employ this behavior of selecting multiple lines of text in Sublime?

- Is there a way to switch the behavior into the one that I (personally) am more used to?

I'm posting a reference image that shows the behavior in a few editing environments: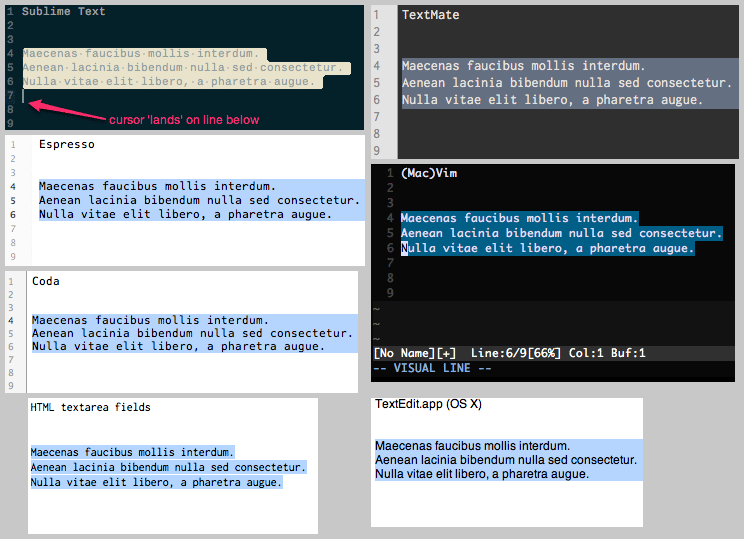 Sidenote: also, in Sublime Text, when selecting in the opposite direction (Shift-Arrow Up) it doesn't leave the cursor alone on the line above the selection. I think this holds some ground for my proposal to adapt Sublime to a more consistent behavior.

Reason for my personal preference towards the more common behavior is, well, because I'm more used to it (from editors like TextMate). In Sublime, it feels slightly more confusing when selecting, copying and pasting multiple lines of code. I believe I *can* get used it, though, and this is not a be-all and end-all issue, but it would be nice if it was possible to accommodate for people like me, who prefer the standard way, if I may call it such.

Regardless of what, in a broad perspective, I'm of course immensely pleased with Sublime Text!